Nick Spalding
First new ISCVE AV Engineer ECS Cards issued
Since the launch last month of the new ISCE AV Engineer ECS card, members have been quick to sign up for the new card. Mark Blackwell, Managing Director for Definition Audio Visual, Leeds was the first member to sign up and is the first ISCVE member to receive his new AV Engineer ECS card.
Mark said "When my ISCVE Sound Engineer card was due for renewal, I decided the AV Engineer card better represents the type of work I do in our audio visual installation company.  My membership of ISCVE, together with my ECS card, gives my clients extra reassurance that I am both competent and compliant.  The process of ordering the card from ISCVE is so easy and the service is very efficient."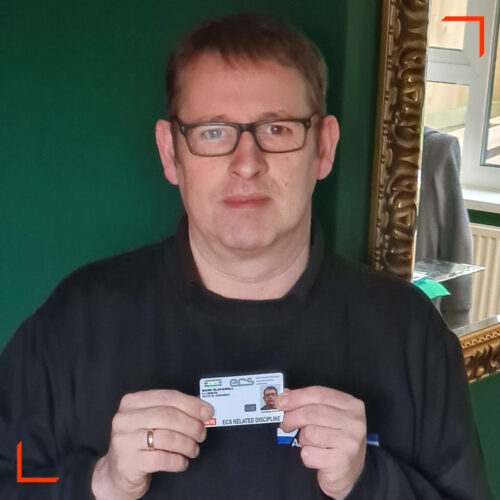 'We're delighted with the response to the new AV Engineer card', comments Ros Wigmore, Secretariat for ISCVE, 'with applications arriving almost from the minute we announced its launch'.
'Most pleasingly we've also seen a surge in applications for the original Sound Engineer ECS card too, which seems to indicate our members are keeping busy and getting ready for when more normal business can resume', concludes Wigmore.
For further information on the ECS card scheme please visit: