Nick Spalding
ONS Newport enhances emergency PA with Vaughan Sound
ISCVE Supporting Member Vaughan Sound has recently upgraded the emergency public address system at the Office for National Statistics' headquarters in Newport.
The ONS is the United Kingdom's largest independent producer of official statistics and the recognised national statistical institute, reporting directly to UK Parliament. They are responsible for collating and publishing data on the economy, population (including the census for England and Wales) and society.
The non-ministerial department are a long-standing client, after Vaughan Sound was directly appointed by VINCI Facilities following previous successful work across similar public sector buildings throughout Wales.
Having inherited the maintenance of the existing public address system – which is used for important notifications and emergency announcements to staff and visitors – following a tender request back in 2015, Vaughan Sound is subsequently responsible for regular systems support across the ONS' estate.
The public address system was originally installed in 2006, after the corporate headquarters moved from Pimlico, central London following a review into public sector relocation. In the main it comprises of flush mounted ceiling loudspeakers throughout all zones of the building's four floors; including corridors, open plan office spaces and public eatery areas.
As part of a Planned Preventative Maintenance (PPM) contract, Vaughan Sound fully inspects and tests the PA system every quarter. Although the system is not a formal voice alarm, it does have a battery backup for the front end and amplification. Therefore, in case of any power loss, important announcements and instructions can be made from the public address microphones that are conveniently located for key office staff and responsible persons.
Further to advisory notes during earlier service visits and due to the age and condition of the system, Vaughan Sound recommended that the ONS considered a full upgrade of the front-end rack equipment. This would subsequently meet the requirements for additional loudspeakers, which were necessary following the reconfiguration of offices to accommodate new layouts and staff growth. Ultimately, the existing amplification had insufficient headroom and capacity to facilitate these changes.
Vaughan Sound therefore developed a detailed proposal for the facilities management teams at ONS, Newport and VINCI Facilities. This included for enhancements to the control, amplification and charging system, as well as the inclusion of an automated announcer. The rack mounted digital media playback device is used to reinforce current COVID-19 safety measures, with clear and intelligible bilingual messaging pre-loaded onto it.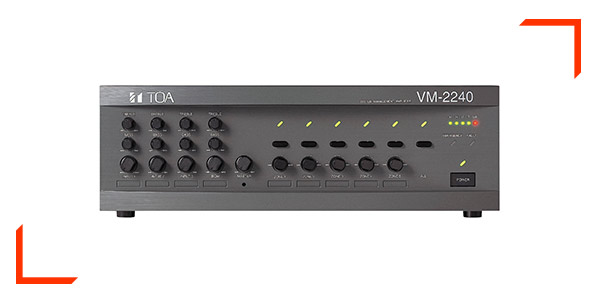 A TOA VM-2240 system management mixer amplifier was paired with a VP-3504 2000W, 100V line Digital Quad Power Amplifier, which provided the additional headroom required. The VM-2240 not only permits general-purpose broadcast, but also emergency broadcast as per the EN60849 Standard which allows pre-recorded voice instructions in an emergency situation.
New loudspeakers were installed throughout a multitude of areas needing additional coverage; including small offices, meeting rooms, conference rooms, as well as re-purposed stores rooms.
A newly created annex building, which received a complete office refurbishment, required a large quantity of TOA ceiling loudspeakers. Meanwhile, DNH bi-directional loudspeakers were also installed into attic spaces and fire towers as part of Vaughan Sound's upgrade works.
Standby power is provided by a TOA VX-3000DS EN54-4 certified control system charger and emergency power supply manager, with additional battery packs also included. This energy-efficient, lightweight 3U rack-mount unit features dual switching power supplies and allows for easy maintenance, as the function setting switch and shutdown switch are located inside the front panel, while fuse replacement can be performed on the rear side.
Vaughan Sound has successfully provided greater audio presence throughout the busy offices, with clear, intelligible announcements and a very noticeable improvement in sonic quality throughout the multi-floored headquarters.
The ONS' offices in Titchfield, Hampshire received a similar upgrade in 2018. More recently, Vaughan Sound has also completed a new PA system installation at their warehouse facility in Christchurch, Dorset.