Apply Here
If you would like to apply for an ISCVE new, renewal or replacement ECS Card, or apply for an Assessment, please fill out the form below under the appropriate heading. Once you have filled in all of the fields, click submit.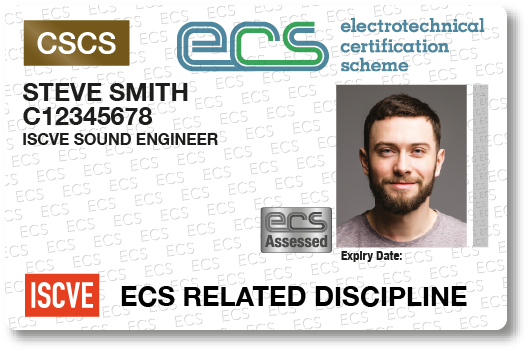 Health, Safety & Environment Assessment
The ISCVE Sound Engineer ECS card scheme matches the requirements of the CSCS scheme, in that it is compulsory that all participants must hold an up-to-date health & safety qualification in order to be awarded with a card. This is designed to prevent accidents and to promote safety and quality of work.
Those who successfully pass the ECS H,S&E assessment will be awarded with an ECS H,S&E Certificate which can then be used to obtain an ISCVE Sound Engineer ECS card within two years of passing the assessment.
ECS Electrical Safety Unit Assessment
From January 2021, all ECS card holders will be required to complete an Electrical Safety Unit assessment as well as the HS&E assessment and ISCVE provides approved training in preparation for the assessment.
The ECS Electrical Safety Unit assessment has been developed to provide a basic electrical industry safety qualification to support the application of an ECS Related Discipline or other defined ECS cards.
The criteria of the assessment is based around safe working of electrotechnical allied trades carrying out associated installation works with an emphasis on when to make sure electrical installation work is carried out by a suitably qualified ECS cardholder.
To apply for an ECS related discipline card the applicant must hold a valid ECS Health, Safety and Environmental (HS&E) assessment plus the ECS Electrical Safety Unit assessment.
The ECS HS&E assessment must be booked and taken separately from the ECS Electrical Safety Unit assessment (although the two separate assessment may be taken consecutively at the same venue).
The ECS Electrical Safety Unit assessment is not suitable, on its own, for people entering the Electrotechnical sector or who are looking to train as an electrician and is not recognised as an electrical theory qualification.