Spalding, Nick
FBT Audio showing a host of products at ISCVEx 2023
FBT Audio is showing a host of products this year at ISCVEx 2023, come along and find out more on 22 March 2023.
FBT Audio (UK) Ltd
FBT Audio are proud to be one of the fastest growing music distributors in the UK, with an ever expanding product and brand portfolio and benefiting from UK warehousing offering next day delivery, we pride ourselves on providing first class customer service.
We have a solution for every project using products from FBT Speakers and amplifiers for Touring, Installation and Portable Sound, designed, engineered and manufactured in Italy, JTS Wireless and Wired microphones from a single vocal dynamic to a wide band theatre wireless system, Studiomaster class leading digital and analogue mixers and multi channel amplifiers, APEX CloudPower award winning amplifiers with remote access, multichannel and unparalleled power, NewHank Source Players, Neutruik Connectors and Italian Bulk Cable, assembled cables, Headworn/Lavalier microphones and metalwork from StageCore.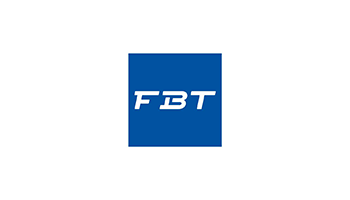 FBT Archon
FBT ARCHON: The FBT Archon series has been engineered to fulfil the need of high quality sound in bars, pubs, restaurants, retail shops, clubs, entertainment venues, fitness centres, conference rooms, theatres, educational institutions, houses of worship, museums, exhibition centres, cruise ships, corporate A/V, granting excellent speech intelligibility, wide and precise band coverage, ease of installation thanks to the flexible mounting hardware.
FBT Ventis
FBT VENTIS: Available in either passive or bi-amplified versions, each of the models – the VENTIS 115, 112, 110, 108 and 206 – has been designed to meet the highest standards in both performance and aesthetic appeal.
A combination of B&C compression drivers and FBT custom, long excursion woofers, 15mm birch ply and fully rotatable constant directivity horn ensure amazing intelligibility together with am astonishing size to SPL ratio.
JTS
JTS UF20/R4: UF20 is our flagship, true diversity, wide band wireless system offering a feature set usually only available at much higher price points whilst the R4 is our most popular system where multiple channels are needed.
Studiomaster
Studiomaster: DigiLive 16 has redefined the digital mixer market by offering an amazing feature set at a groundbreaking price. A comprehensive DSP, motorised faders and iPad control complete a comprehensive package.
CLUB XS+ flat bed and C3 Series rack mount analogue mixers for live and installation
Apex
APEX: A choice of 4 four channel amplifiers from 4x350w to 4x 3000w all in a 1U chassis. Comprehensive DSP and off-site remote access make this a perfect choice for small, medium or large installation projects.
Find out more:
Find out more by visiting ISCVEx 2023 on 22 March 2023.
Contact FBT Audio (UK) Ltd